Scotiabank / AAdvantage MasterCard

Shop with the card. Fly with the miles.
Earn miles and more
Apply for a Scotiabank / AAdvantage MasterCard card and get a welcome bonus of 3,000 miles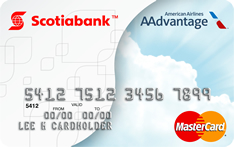 You'll also enjoy:
Miles on every purchase you make with your card (you can even get extra cards for family members)1
MasterTravel Insurance for up to $75,000 USD when you purchase your tickets in full with your card
Optional low-cost Credit Life Insurance to provide your family with financial comfort
Scotiabank / AAdvantage credit cardholders and AAdvantage® elite status members enjoy exclusive rates when redeeming miles on car rentals and hotel stays2
Use your card regularly. It is the best way to keep your AAdvantage account active, so your miles may never expire3
Choose your country and learn more today
Terms and conditions
This content can be expanded
1 Conditions apply
2 Certain members may receive preferential pricing. Pricing is subject to change without notice. For complete details and to redeem miles, visit: useaamiles.com/carhotel.
3 American Airlines AAdvantage® miles will not expire provided that once every 18 months you earn or redeem miles on American Airlines, an affiliated carrier, or with an American Airlines AAdvantage® participant.
® MasterCard is a registered trademark of MasterCard International Inc.
Tm Trademark of The Bank of Nova Scotia, used under license.